Outdoor cushions are a home furnishing item to add a sophisticated touch to your place. These cushions can provide you with back support and help to straighten up your body posture. Outdoor cushions can be placed on balconies, patios, backyard sofas and chairs, and gardens.
People use these cushions to add luxury and style to the outdoors and indoors as well. Outdoor cushions are made from different composition materials, mainly polyester, but with distinct shapes, textures, and materials. You can buy these cushions in different color tones and patterns from a nearby store. In this article, you will get to discover the diverse yet best outdoor cushion ideas for home ornamentation.
Incredible Outdoor Cushion Ideas For Home Decor
Different materials are used for the stuffing of these luxury outdoor cushions, including feathers, cotton, wool, non-woven fibers, or even fragments of paper are used in cushioning them. While the foam used under the top covering is made from polyurethane. Foam can also be used for the top covering and offers high resilience. Now we'll discuss the 8 best outdoor cushion ideas for home use.
1. Waterproof Outdoor Cushion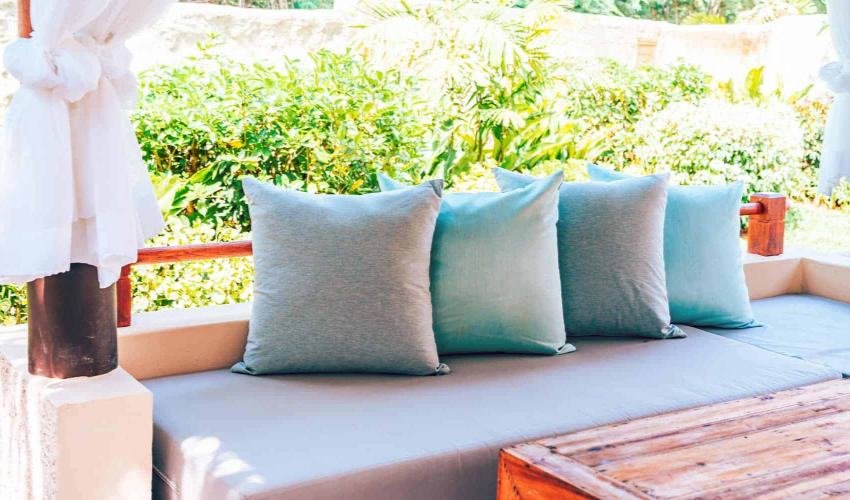 Cushions for outdoor places are usually made from high-quality materials so that your cushions can stand the test of time. As outdoor areas face more wear and tear, manufacturers and designers make them with fabrics that are resistant to water.
One of the best outdoor cushions that are waterproof as well is made of acrylic. Acrylic fiber is perfect for outdoor cushions because it can get dry easily and is an extremely soft fiber for cushions. You can place these cushions over your sofa sets under the sunlight for a long time. These cushions are also available with concealed zips, and you can wash them in the machine.
2. Geometric Patterned Cushion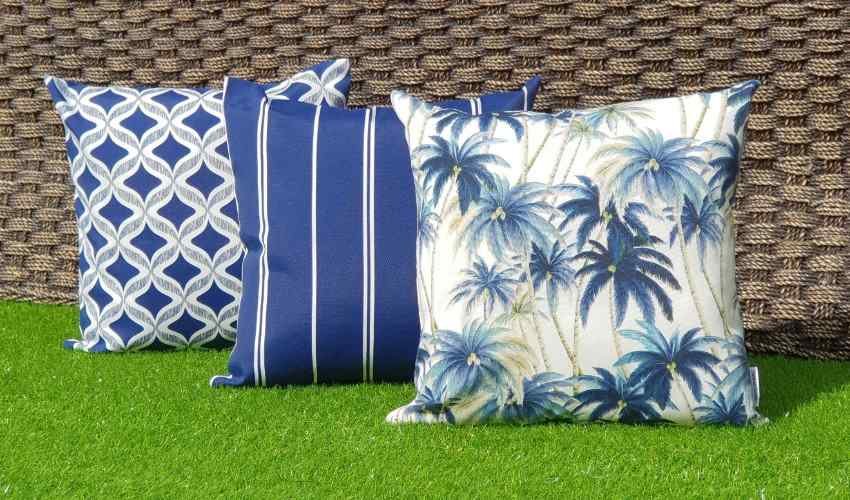 If you want to add texture and patterns to your outdoor spaces, you can purchase geometric-patterned cushions to spruce up your decor. There are different layouts and styles available for these geometric cushions. You can buy these cushions in different fabrics like cotton and linen, which are the best materials for providing softness and an array of styles.
3. Chaise Lounge Outdoor Cushion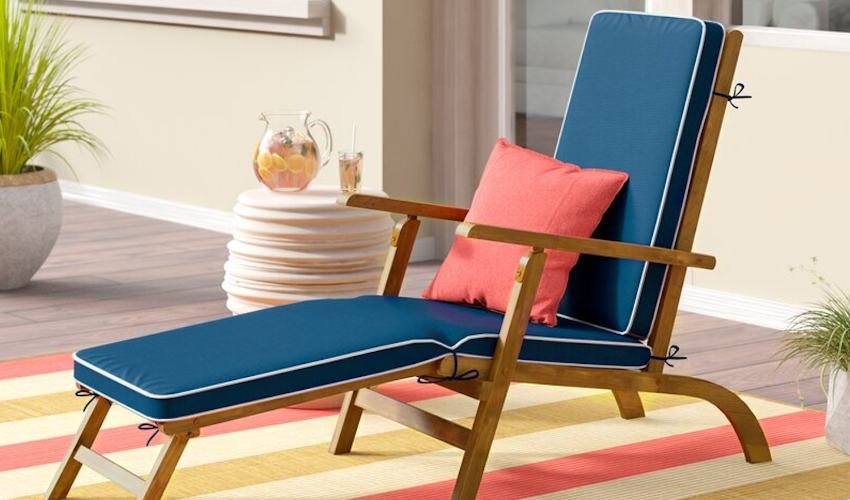 You can improve the appearance of your chaise lounge by using outdoor chaise lounge cushions. Most of these are made from polyester with the filling of foam to provide you with ultimate comfort. These cushions can offer maximum durability because of the high-density foam. These cushions are fade-resistant, and they can effectively resist water and stains.
Most of these sun lounge cushions come with piping that offers a classy look to your decor. The plus point of having these cushions is that they can be removed easily and come with adjustable belt straps and locking zippers.
4. Deep Sectional Outdoor Cushion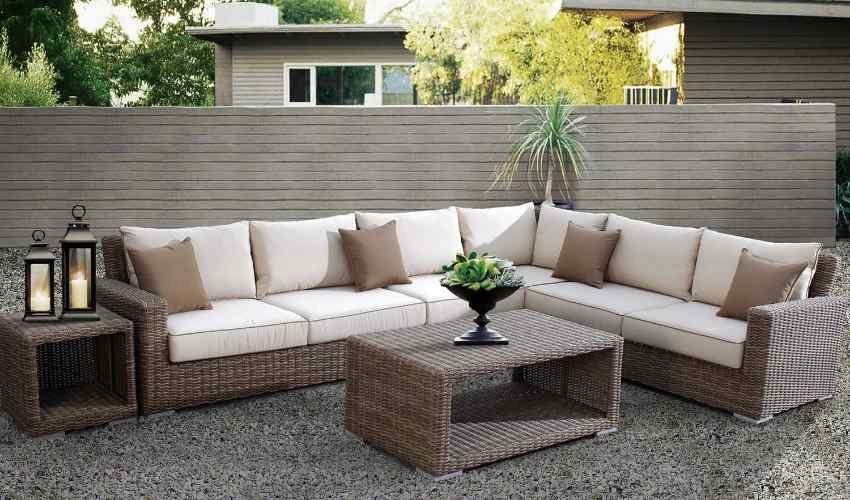 If you have a beautiful and wide garden or patio in your home with a sectional sofa set, then you can change the whole visual of your sectionals by placing outdoor cushions over them. You can shop for cushions depending on the color and texture of your sofas.
Most of these cushions are made from synthetic materials and come with foam and polyester filling that can ensure their longevity. You can purchase these sectional cushions to change the look of your chairs and sofa sets. The backing and seating with the finest lining can give a perfect finishing touch to them. These cushions are mildew resistant and prevent color fading from UV rays.
5. Arty Outdoor Cushions
It is one of the best outdoor cushion ideas for home use because of its spectacular art designs over them. You can buy these arty outdoor cushions for any outdoor space. They can add fun, texture, and style to your outdoor accessories with the stunning visualization of graphics.
The art crafted over them can be related to nature or any aesthetic. It depends on your choice and the taste that you want for the furnishing of your outdoor furniture elements. These cushions improve the accents of your outdoor areas and come with invisible zippers.
6. High-Back Chair Cushions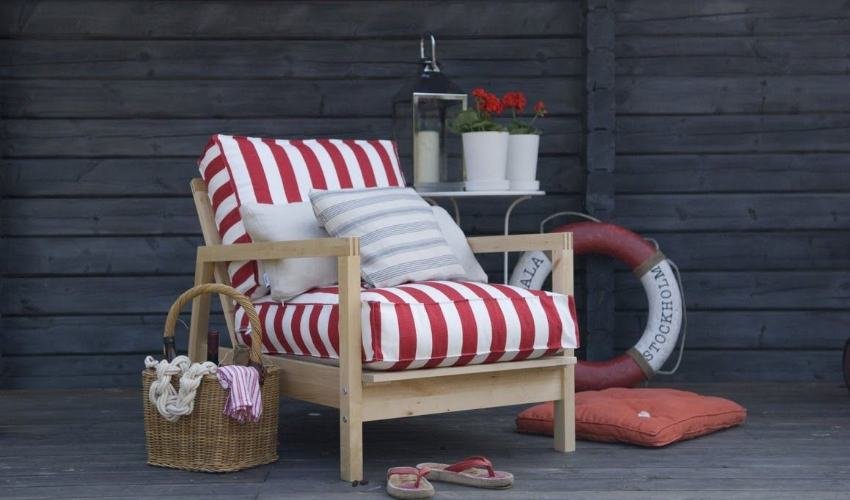 With the high-back chair cushions, you can add coziness to your chairs made from plastic and other rigid materials. If you are searching for the best outdoor cushion ideas for home use, then these high-back cushions are the best.
These cushions come in different sizes and shapes according to your chairs. You can purchase these cushions, made from polyester material, and they come with holdback ties to provide support and secure your furniture as well. These cushions are fade and water-resistant, and you can buy them according to the color tone of your furniture sets.
7. Tailored Outdoor Bench Cushion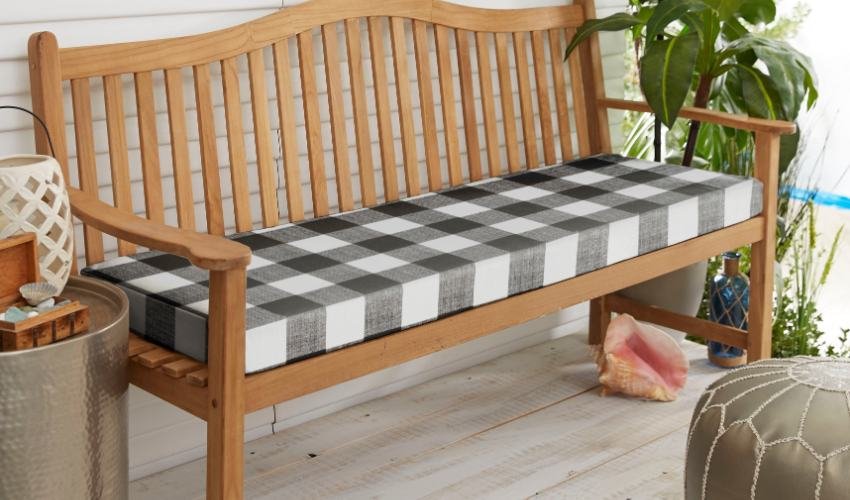 If you have a bench in your garden or backyard, then you can add comfort by adding bench cushions over them. These cushions are also made from polyester and filled with foam that can last for a longer period of time.
You can buy these cushions according to the size of your outdoor bench and the color that suits it well. For the durability of these cushions, they are double stitched with inner and outer seams. These cushions come with multiple layers of foam to add ultimate softness and comfort to your solid benches.
8. Best Tufted Seat Cushions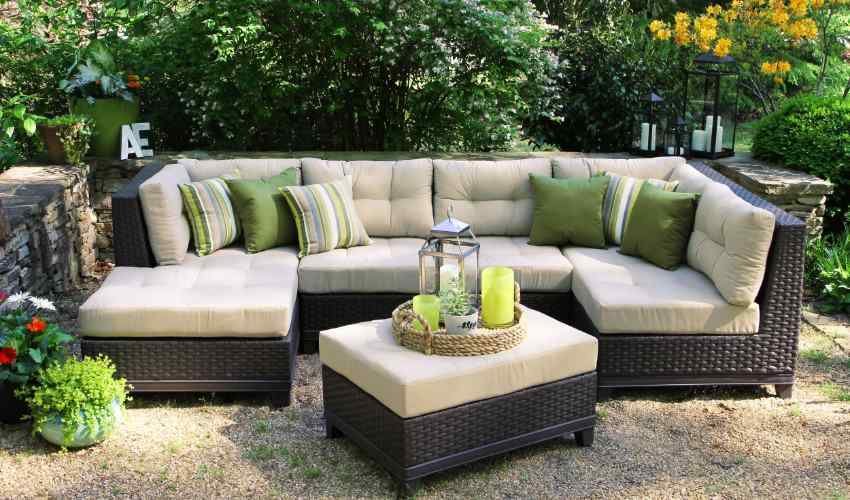 Among the 8 best outdoor cushion ideas for home, one of the excellent choices is the best-tufted seat cushions. These cushions are available in shopping centers with versatility in colors, styles, and shapes. You can buy them in different printed or solid colors and patterns for your outdoor décor. You can also wash these cushions by hand because the covers are not removable.
To End Up!
You can give your exterior spaces a mind-striking look with these modern and luxury outdoor cushion sets. Cushions can be placed on distinct items like chairs, chaise lounges, sofas, and areas like floors and carpets. They are the perfect addition to the decor of any place. You can buy patterned and artistic cushions with innovative styles to glam up the decor of your outdoor spaces.